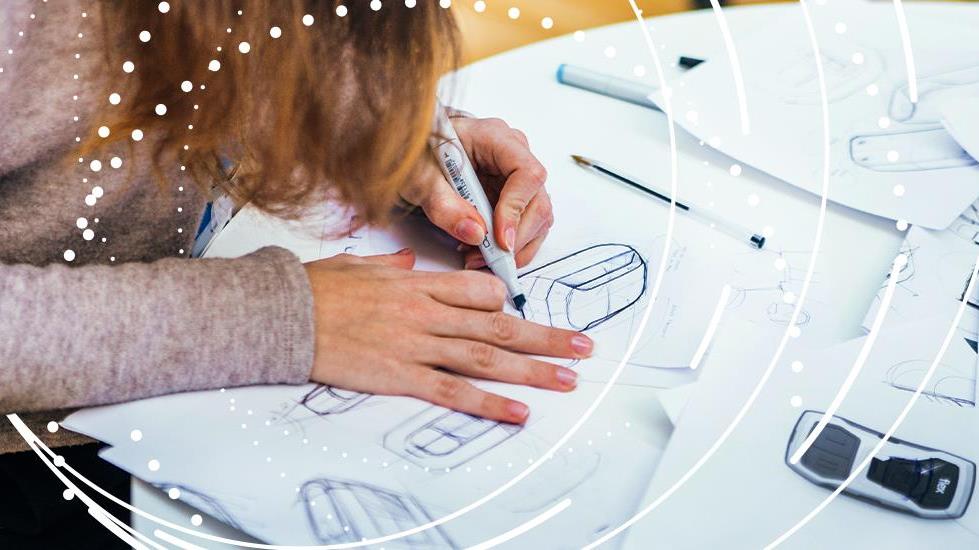 On June 23, we will join professionals, educators, students and others in celebration of International Women in Engineering Day. This commemoration is an excellent platform to inspire and support girls and women in achieving their goals as engineers and technical leaders.
At Flex, engineering is more than fixing things. It's about finding solutions to everyday problems. We create products that improve people's lives and produce the next generation of life-saving devices.
We spoke with three outstanding women employees, working in different parts of the technical space, to discuss their experiences and valuable contributions.
Design System Engineering Manager – Rebecca Wernette, Boston
To learn about #LifeAtFlex for a woman design engineer, we reached out to Rebecca Wernette, a Design System Engineering Manager in Boston. At just 18, she began her career as a Flex Mechanical Design intern.
Rebecca admits she got hooked early: the variety of work, collaboration with leaders and peers and customer management projects all helped grow her skills and career in every direction.
She recalled, "I was helping with multiple projects from designing medical devices to troubleshooting manufacturing problems while constantly learning and solving new challenges every day."
What do you like most about your job?
"Every day brings something new. We are a company that is full of change with values that drive us to work together. It results in an environment where even across sites in different countries, you pose questions and reach out to colleagues for advice.
It is a unique environment. Your perspective grows in many ways. You gain a deeper understanding of engineering and manufacturing and have the opportunity to apply your knowledge in different industries.
Every year I have worked with Flex has resulted in tremendous development and growth, and a continued understanding of the company as a whole."
Supplier Quality Engineering Manager – Aviva Levy, Israel
Quality is our priority when designing and manufacturing a product. All parts and services must conform to customer and legal requirements. We talked to Aviva Levy, a Supplier Quality Engineering Manager in Israel, to understand more about supplier quality.
She joined Flex 20 years ago, right after becoming a mother, as an Incoming Inspector. After 15 years of excellence in all things inspection, she moved to the Supplier Quality department.
What does it mean to be a Supplier Quality Engineering Manager?
"Being part of the quality suppliers' team is an opportunity to partner in the initiative and development of testing methods and evaluations.
My department is responsible for material quality issues from the moment items are received at the reception warehouse into Flex inventory, all the way to closing the logistical, operational, and economic impacts of returning the material to the supplier.
Our responsibility extends to developing and implementing methods of disposing unsuitable materials. We continuously strive to improve the quality of our engineering suppliers' programs and standards.
VP of Business Development for Automotive – Melanie Schuttenberg, Germany
We rely on industry standards and customer requirements to create innovative products that make an impact. Our engineering teams specialize in various industries from consumer goods to automotive.
While we have a long record of success in design, engineering and manufacturing, it all starts with business development and partnering with companies to turn their opportunities into realities.
We spoke to Melanie Schuttenberg, VP of Business Development for Automotive in Stuttgart, Germany, to learn more about this engagement. She said, "I was captivated by the speed, the innovative products and the collaborative team atmosphere at Flex."
Why choose a career in business development in the Automotive industry?
"My job is great because it is working with different people, with diverse backgrounds and different perspectives.
We establish a strategy that brings these contributors together: Flex, customers and subsuppliers, all of which concludes with working on a beautiful car. And that makes me very lucky.
I enjoy challenges and love solving them. Here, you are challenged to solve new issues every day, execute against milestones, get approvals and win contracts. The key is how you manage communication internally and externally to get everyone's buy-in."
Become the next woman in engineering at Flex!
From Boston to Israel to Germany and sites worldwide, our people work in global cross-functional teams who are immersed in various cultures and mindsets.
We've learned to adapt to adversity in unprecedented times, navigating personal and professional goals and supporting each other through communication and collaboration.
At Flex, we welcome people of all backgrounds and reward performance. We're always looking for outstanding talent to help us create the extraordinary. Are you looking for a new opportunity? Join us!