Homepage
The Transformation Starts Now

Find out how imagination can transform markets, and how it moves us every day to master new capabilities and drive technological innovations.

CES Trends That Will Shape Product Development in 2019

From connectivity to artificial intelligence, these are the next generation of cross-industry technologies continuing to advance.

Intelligent Products for a

Connected World®

With approximately 200,000 professionals across 30 countries, Flex designs, develops and delivers solutions to companies of all sizes and industries.

Advanced Audio and Voice Technologies

Explore our audio and voice solution integrations through joint design manufacturing (JDM) partnerships and manufacturing services.

iENBL: The Ultimate Low Power, Wide Area Network, Rapid Development Platform

A Development Kit for Rapid IoT Application Prototyping and Field Testing
We help companies transform ideas into intelligent solutions that ship worldwide.
The Latest Stories
Don't Just Manage Your Supply Chain: Supercharge It!

Here are five new principles to embrace speed in your supply chain.
3 Ways Simulation Can Save You Time and Money

A lot goes into successfully bringing high-quality, reliable products to market - but what are some of the tools that enable that success?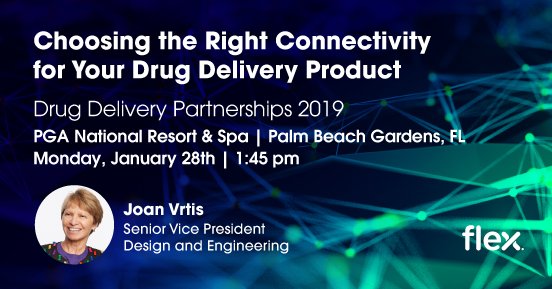 January 21, 2019
Attending ##DDP2019? Joan Vrtis, Ph.D, will speak on "Choosing the Right Connectivity for your Drug Delivery Product" on Monday. On Tuesday,...