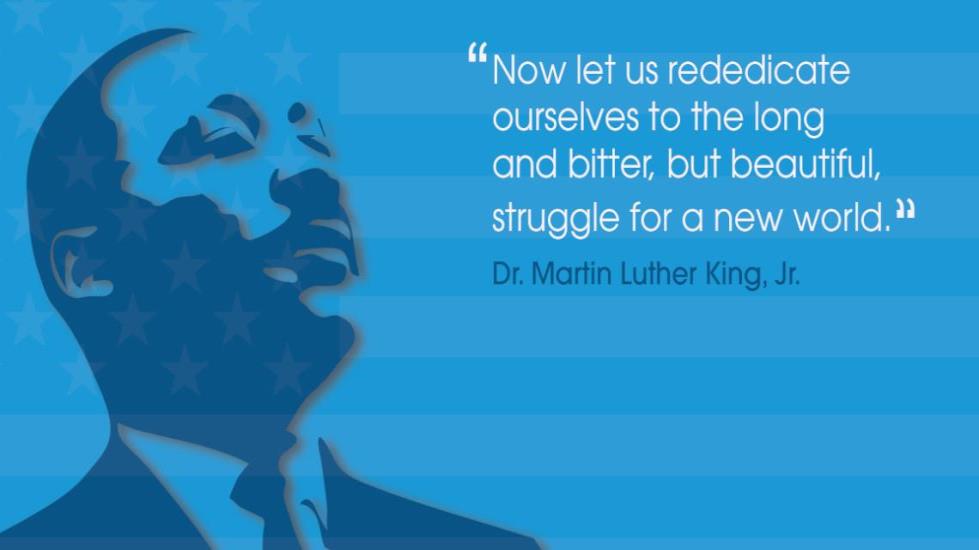 Monday, January 18, is Martin Luther King, Jr. (MLK) Day. For many, Martin Luther King, Jr. Day is a day filled with profound emotions and meaning. It is often cast as "a day on, not a day off," not least because it is the only U.S. holiday designated as a national day of service. On this day, we honor Dr. King's birth, legacy and dream. We also reflect on what he taught us and how to apply his teachings to achieve social justice and equality for all.
What's different today?
Today, a new generation is getting behind the Black Lives Matter Movement that gained momentum last year, renewing urgent calls for social justice echoed by Dr. King. This movement has ushered in a much-needed awakening about the systemic racism that continues to permeate our society.
The protests have caught the attention of businesses which in turn have pledged to address many systemic issues and social inequalities. This is a step in the right direction. Now as the leaders of corporate America, we must make good on our word to take action.
Changing hearts and minds through shared experiences
At its core, tackling discrimination and challenging biases is about changing hearts and minds. To do this, creating awareness through education and shared experiences is a critical first step.
At Flex, we continue to develop programs designed to help our colleagues better appreciate the history and experiences of a particular community. Our executive leadership team completed an Inclusive Leadership Experience last year to better understand unconscious bias and its impact in the workplace. This experience is currently being rolled out to all people managers globally, providing the education to recognize unconscious bias in themselves (we all have them) and the tools to lead our workforce more inclusively.
Beyond the learning and tools, having meaningful conversations consistently can open new doors to greater appreciation for one another. After all, we tend to develop empathy when we hear personal stories, including the lived experiences of people who have been historically underrepresented. Only when there is space to share, listen and learn can we have honest – and at times painful and uncomfortable – conversations that are required before we can carve a sustainable path to addressing deeply-rooted social inequalities. We are constantly looking for opportunities to create this space at Flex, and I'm happy to share that we are ramping up these efforts with more programs in the coming months.
Recently, we hosted an internal talk with David Acey and employees to discuss the Civil Rights Movement, how to emulate Dr. King's service in our own communities and explore how to engage further. The talk sparked discussions about bringing a new awareness to inequities and actions that we can take on an ongoing basis.
During Black History Month, we will also feature a diverse group of Flex team members of African heritage. Although Black History Month is a U.S. observance, we aspire to elevate this moment by showcasing the global diversity of our extraordinary colleagues who trace their lineage to Africa. Be sure to watch this space!
Ensuring equitable access to resources and opportunities in the workplace
In the workplace, conversations about inclusiveness are often couched in terms of ensuring diverse representation and recruiting inclusively. We have to consider every qualified talent including those who have been historically underrepresented. But once they're in the door, our work is just beginning. We nurture their success and support them by strengthening a culture of inclusion and ensuring equitable access to resources and opportunities. However, the effects of racism are painful to bear and sad to say, it still lurks in our contemporary workplaces, which should be no surprise as they represent our society at large. There is no doubt that there's still more work to do.
This is why we give our employees opportunities to engage with, and even personally shape, programs designed to help connect one another, advocate for change and amplify their voices. For instance, one of our employee resource groups is the Black Flex Network (BFN) where Black colleagues come together to share their experiences as well as support one another and their communities. More recently, we partnered with McKinsey & Co to offer Black employees the opportunity to enroll in the career accelerator program Black Leadership Academy.
Helping our communities accelerate positive change
The Flex Foundation, our private, non-profit that supports philanthropic initiatives, is committing greater financial resources in the form of grants to organizations that advance the social justice mission from meeting urgent needs arising from COVID-19 to grooming minority talent for leadership roles.
The Foundation is working with the Black Flex Network to identify and provide grants to support a variety of nonprofits that meet our target profiles. Begun in 2020, this work continues and BFN has spearheaded initiatives to provide grants to the following non-profit organizations:
Safe Alliance: An organization in Austin, Texas, which provides residents with job assistance, counseling, legal services, and healthcare.
Cass Community Social Services: Based in Farmington Hills, Michigan, this organization supports the immediate needs related to the COVID-19 crisis and provides emergency shelter for approximately 150 individuals per night in summer months and 300 individuals per night in colder months.
Shelter Against Violent Environments: SAVE, in San Jose, California, provides rental assistance for a very specific group of clients to assure their housing stability and long-term success.
The Flex Foundation has also donated funds to INROADS, an international nonprofit that places ethnically diverse students in internships as a path to corporate and community leadership.
Rooted in love and respect for humanity is the fair treatment of all people. We all deserve to be seen, heard, valued, and treated without partiality. Whether in society or within the walls of Flex, we are people first and this simple fact alone requires that we do the right thing always, even when it is hard.