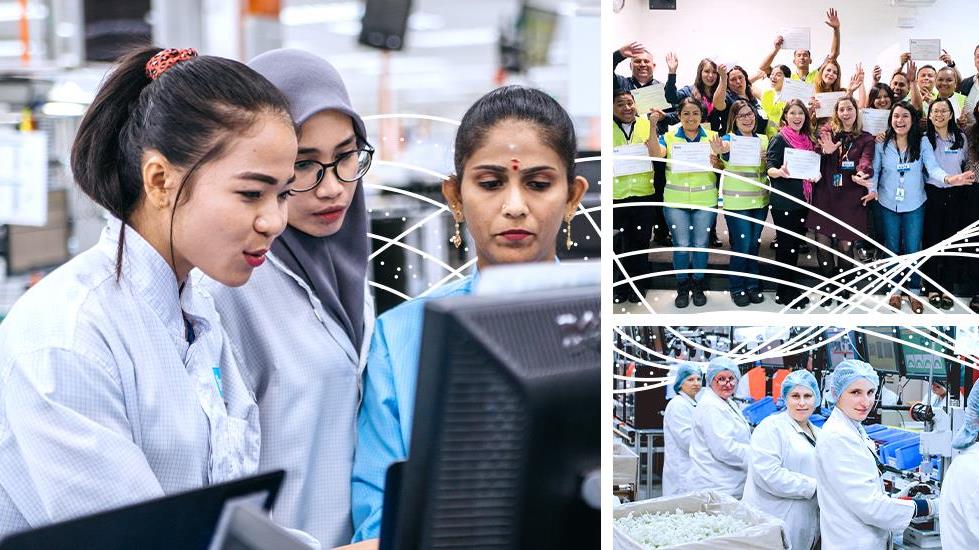 In commemoration of Earth Day in April, we unveiled our long-term environmental sustainability commitments through the year 2030. With the recent publication of our 2021 sustainability report, we're at an opportune moment to spotlight the people dimension of our sustainability strategy for this decade. Below, Kyra Whitten, VP of Marketing, Communications, and Sustainability, explains the criticality of nurturing people and their ability to thrive in a world where change is increasingly disruptive.
Here in the Bay Area, where I have lived for decades, the heat waves we experienced in recent weeks are poised to become a mainstay of the Golden State. These record-breaking temperatures — and other climate changes such as the once-in-a-millennium flood that ravaged Germany last week — represent more signs that large-scale changes are not only accelerating but also becoming increasingly disruptive and devastating. In such a world, we need to develop greater adaptability and resilience within our networks and communities – whether we're speaking of families, neighborhoods, teams, or entire organizations.
For Flex, the people dimension of our sustainability strategy is no less vital than the commitments we make to minimize our environmental impact. Indeed, in the wake of the COVID-19 pandemic, taking care of one another, helping each other adapt, and fortifying our ability to successfully rise to ever greater challenges have never been more mission-critical. How do we invest in our colleagues and engage in ways that allow us to grow and thrive together? It is time to go beyond the basics and boost our collective "thriveability" by first recognizing that our world is increasingly volatile, and change is fast and constant.
As one of the world's largest diversified manufacturers, we're continuing our journey towards a sustainable factory of the future that is socially and environmentally responsible. As much as automation will power tomorrow's factories, people will always remain at the heart of Flex operations. We are committed to creating a safe and inclusive workplace where each colleague is empowered to unlock their full potential through equal access to education and economic opportunities.
To reinforce these commitments, we've set numerous people goals through the year 2030 in three major categories:
Inclusion and diversity
Labor practices
Health and safety
Towards inclusion and diversity (I&D)
We know our global workforce is a strategic advantage for us and we must do all we can to create an environment where our people are valued. Over the past year we have taken steps to further integrate I&D into our sustainability agenda while building the foundation of our I&D program.
On the whole, Flex still has some distance to go to reach a gender balanced workforce with females comprising 44 percent of our global employees. We also recognize the need for greater female representation in the executive ranks. The good news is we have laid important groundwork to systematically create more opportunities for female leadership. For example, in 2019, we kicked off SheLeads, a development program designed to help high potential women nurture their leadership skills. Globally, we have set a goal to fill more staff at the director level and above with qualified female leaders.
In the U.S., we have similar plans to ensure our workforce and leadership equitably reflects the racial and ethnic makeup of our communities. Our employee resource groups (ERGs) went from two to eight in 12 months, giving greater acceptance and voice to those employees who identify with particular communities that have been underrepresented historically. For instance, ERGs like the Black Flex Network and Pride ERG of LGBQT teammates and allies have flourished, allowing our entire organization to appreciate how by including diverse perspectives and backgrounds, we enrich not only our problem-solving approach but also our work experiences.
Cultivating a resilient, adaptable workforce
With people at the center of everything at Flex, we recognize the imperative to invest in our teams and prepare them to rise to new challenges in our increasingly dynamic world. As the pace of technological change has exponentially accelerated, our thriveability rests on people's ability to develop resilience and adapt quickly. As our factories become more automated, for instance, one of our key focus areas is to train more of our shop floor colleagues to learn new manufacturing techniques and become more adept at working with software and data. Some of this will come by way of the 40 hours of training and development we plan to deliver to each employee annually by 2025.
Our scope in preparing our teams for change extends well beyond up leveling their expertise; we also commit to providing the resources to nurture their emotional well-being, a prerequisite to building resilience. Providing psychological support to our people was particularly important last year when we saw significant uptake in our onsite counseling services particularly by women, as many saw their caretaking roles balloon suddenly amid the COVID-19 pandemic. Our mental health services, first launched in Asia just over a decade ago, are available at 90 percent of our facilities in the region. While certain sites in the Americas and Europe run similar programs, our goal is to offer these services uniformly to every Flex employee by 2023.
Exceeding health and safety benchmarks
Finally, safety is fundamental to how we operate, and we continuously train our shop floor teams on ways to minimize the risks to injury.
You can tell a lot about a site's performance by looking at its safety metrics.
— Revathi Advaithi, CEO, Flex
As we aim to be the most trusted partner across the manufacturing ecosystem, the uncompromising safety of our colleagues will always remain a top priority.
Under Revathi's leadership, a safety-centric mindset permeates our culture with safety metrics under review on a monthly cadence. Our performance in this regard is rapidly gaining traction, underscored by last year's 21 percent decrease in total case incident rate (TCIR) compared to 2019. TCIR is the number of work-related injuries per 100 full-time workers during a 12-month period.
Indeed, Flex's safety record has vastly improved in recent years: our TCIR is well below the averages across the industries we play in, having dropped 53 percent since 2015. By 2030, we aim to further reduce this rate to below 0.2, putting us in line with safety benchmarks seen in professional services like finance and legal.1 Our playbook has each Flex site implementing multiple check points including a health and safety management system that is subject to an annual internal audit. Our global shop floors reflect a variety of standards mapped to the specialization of each production facility; for instance, as the risks related to plastic injection molding processes are different than that for metalworking, our safety protocols address the risks of the human touchpoints in each specialized workflow.
Recently, our Sorocaba campus was certified as an RBA Factory of Choice in recognition of upholding socially responsible practices throughout its manufacturing operations. By 2025, we aim for all of our manufacturing operations to bear the 'RBA Factory of Choice' certification.
The goals that we are pursuing in support of our people — health, safety, diversity, opportunity — are critical enablers of the culture we want to create and align to the pillars of the long-term strategy for Flex. Beyond supporting the business objectives, our social sustainability focus is the right thing to do for all of our stakeholders to move beyond compliance and create a thriving ecosystem. Boosting our thriveability requires us to recognize that we are all part of a community that requires constant nurturing and care, and by collaborating and supporting each other, we will have the strength and resilience to overcome the challenges ahead.