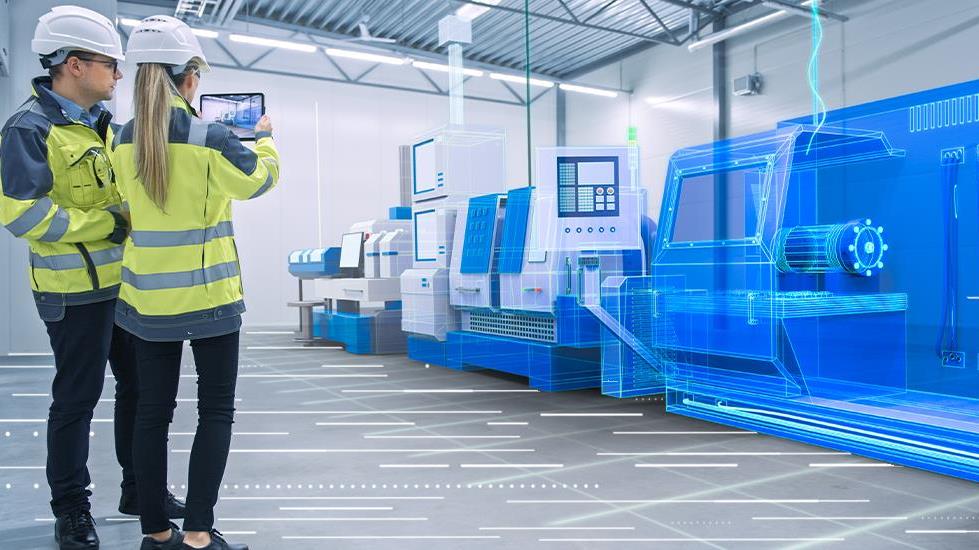 As simulation continues to drive efficiencies in manufacturing processes, Flex's Paul Baldassari shares critical items to consider before leveraging this advanced technology.
The push for manufacturing to transform digitally is becoming more apparent than ever. Disruption from the global pandemic has made it clear that advanced technologies such as robotics, automation, augmented reality, and simulation can help drive throughput, optimize processes and drive efficiencies – and organizations are taking notice. Research shows that spending on digital transformation technologies and services in the manufacturing industry is expected to reach more than $760 billion by 2026.
However, it's crucial manufacturers don't implement technology for technology's sake. As I explained in my last blog, simulation uses a computer representation of a physical system to study constraint effects and can certainly deliver impressive results. However, there are key items organizations need to consider before implementing it. While it sounds simple on paper, in practice, it's quite complicated.
If you're investigating whether simulation makes sense for your next manufacturing initiative, here are five things to keep in mind.
Simulation is complex. Start by understanding if it's the right process.
The first step to implementing simulation is not implementing simulation. That might sound like a contradictory statement, but it's essential to understand the desired outcome. Simulation is an intricate solution that introduces a great deal of technology, data, and cross-functional collaboration. So, if you're missing any of the basic options to optimize a process before engaging with simulation, you should consider them first.
To tell if simulation is right for your existing manufacturing process, start by applying lean principles. These principles focus on reducing waste without sacrificing productivity. If the process is still inefficient, the next step is to apply Six Sigma, which focuses on reducing variation and the probability that an error will occur. If you've exhausted both of those options and your process is still inefficient, simulation is likely the right process.
If you are in the planning or implementation phase for a new manufacturing process, simulation may be the right tool to start with, as you can run digital kaizens and Six Sigma on your model to give yourself a head start.
Improving processes requires many actors. Build the right team early.
Once you've confirmed simulation is the right fit, it's essential to consider who should be involved in the project. To ensure success, every simulation project should have its own steering group. These are the group of people who set the project's expectations, define the scope, drive alignment and support data collection.
For instance, if you want to simulate processes at a factory, your steering group will likely consist of regional or global leadership, the engineering team, the excellence team, and site managers. It's also important to consider and include auxiliary functions, like finance, in meaningful conversations. Since simulation directly impacts many stakeholders' day-to-day operations, the steering group will help you keep the focus on your overall goal and secure buy-in from all parties involved.
Scope creep is real. Define your problem, stick to it and drive alignment for results.
Once you've confirmed simulation is the right fit and developed your team, it's essential to clearly consider your bottlenecks, inefficiencies, and process gaps. With these factors identified, you can begin to articulate your problem statement and outline what you hope to get out of your project.
More often than not, though, organizations fall prey to what we call "scope creep," where an initial problem statement turns into a list of problem statements. These organizations embark on a never-ending project where they falsely assume simulation will be the silver bullet to fix every bottleneck. In the end, these projects end up introducing more inefficiencies than reducing them, because they spend too much time on items that didn't need to be fixed.
Another consideration closely linked to the scope is alignment. While the problem statement and scope define the project's focus, it's essential to align with your steering group on the expected results. Simulation is so much more than producing a visual representation of a process. It has the power to drive optimal line layouts, decrease bottlenecks, and at the pinnacle, optimize every step of the manufacturing processes from start to finish. The key takeaway here is that organizations need to define the expected results clearly, whether that's increased product yield, improved scheduling, optimized line flows or a myriad of other results, so they can apply specific KPIs and work to beat them.
Quality data is paramount. Collect the right information for a useful project.
Arguably the most critical consideration for any project is ensuring you understand the variables, constraints, and information you need to simulate your process effectively. Most of the time, this is the longest part of your simulation initiative.
Like any other advanced technology, the quality of data you put into your simulation software defines the quality of the results it exports. The data you collect needs to be correct, complete, accurate, and directly related to your problem statement. This information is located within different areas of your organization, so be prepared to spend some time with the key players on your steering group identifying and collecting the full data set.
Defining the results. Understand the power of human workers.
There's no doubt advanced technologies are revolutionizing legacy manufacturing processes. However, the real value for simulation (and other advanced initiatives) comes when you have the right human programing and interpreting the results. Any organization can purchase and implement software, but the value comes when you derive information that enables your team to make the right, impactful business decisions.
Simulation competency cannot be acquired, nor is it interchangeable in the same way that a robot, dashboard, or 3D printer is. There needs to be a deep level of critical thinking and problem solving grown, shaped, and nurtured with experience working in a simulation environment to drive value. At the end of the day, the only difference between multiple organizations leveraging simulation technology is the people behind the tool.
The essential questions. What to ask to get your project moving.
The art of getting to the bottom of these considerations requires conversation and deep levels of partnership, whether that's with a manufacturing partner, technology provider, or internal team. To get the ball rolling, think about starting discussions with the following questions:
What is the desired outcome? What results do we expect?
What problems do we need to solve to get there?
What kind of simulation do we need?
What tools are we using to drive simulation practices?
Is there anyone we can talk to who has experience implementing simulation?
How do we ensure the information gained drives actionable and sustainable business change?
Simulation is a tool, a very powerful one, but still a tool. To get the most value, organizations need to determine if it's the right tool for their needs, build the proper team, and stay hyper-focused on the scope and expected results. However, the most essential item for any simulation project is to focus on the data you collect and the employees driving the project. The most critical takeaway is that simulation is only as good as the data you use, the team's capabilities, and the ability to manage and sustain the new optimum processes.
In future blogs, I'll dive deeper into other advanced manufacturing technologies, their impacts on creating products, and key considerations before implementing them into your processes.
If you would like to read more about the importance of simulation, you can read Paul's previous blog, "Why simulation is critical for driving the next era of manufacturing."