Globalization
The inter-dependent and inter-connected model of world trade has been the global economy's growth engine since the end of the second world war.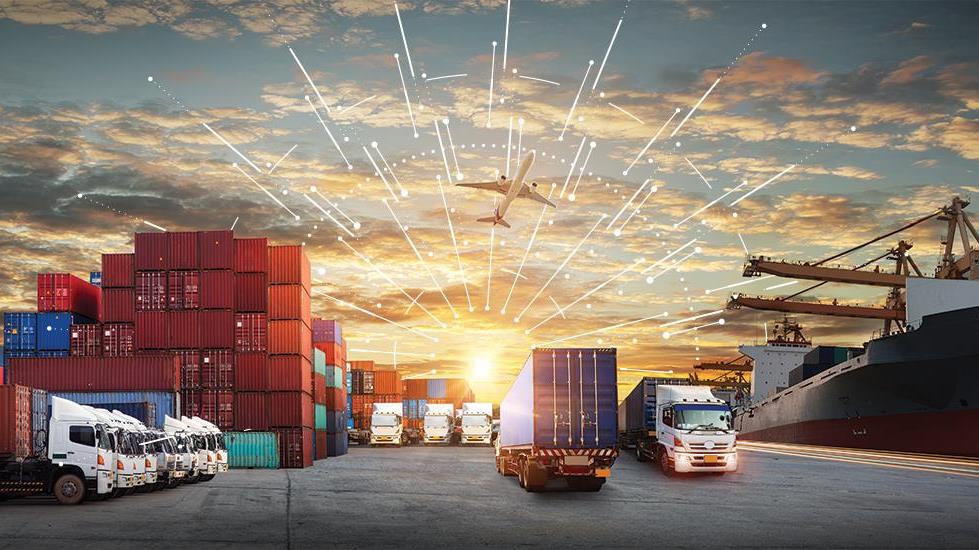 Our ability to efficiently manufacture in one country and cost effectively sell in another, is something we take for granted these days. Better and cheaper air transport, new rail routes from China to Europe, containerized shipping and improved communications have all helped to make the world of trade thrive.
The global supply chain that facilitates products to crisscross the world has been fine-tuned in some sectors to deliver almost perfect cost optimized and 'just-in-time' inventory management, ready to deploy on production lines within 60 minutes of arrival.
Until now, the focus has been on making this machine more efficient.
The drivers of change
But with escalating geopolitical risks, narrowing parity of labor costs and the environmental impact of global supply chains, some businesses are now looking to regionalize as a practical solution to reducing risk and carbon footprint while embracing new manufacturing technologies.
In the last decade the interdependence of the global model has been rattled by the financial crisis, threatened by various episodes of trade war and recently by the COVID-19 pandemic.
Until now, companies made decisions purely on efficiency criteria. However, this troika of catastrophe has brought into sharp focus the global reliance on a single region. It has spurred economic nationalism and protectionism in some cases and caused exposed companies to look for greater resilience.
With a focus on disruption across the value chain, contingency measures to secure supply, including localization are being put in place.
A recent report from the McKinsey Global institute reminds us that on average, companies experience a disruption of one to two months in duration every 3.7 years.
The focus is now on making this machine more resilient.
Rebalancing the global supply chain
Some, like Dr Mohamed El-Erian chief economic advisor at Allianz, claim we have entered an era of deglobalization. Others, like MIT Professor Dr. Esther Duflo, are less dramatic, but recognize that, in future, we will globalize in a more balanced way. Both agree that business will shift emphasis from efficiency to resilience. And that could cause business to consider greater regionalization of their supply chain.
A McKinsey survey in August 2022 found that 83% percent of company leaders that the footprint resilience measures they have taken over the past two years helped them minimize the impact of supply chain disruptions in 2022. Michael Hartung, President of Agility Solutions at Flex, has written about how a growing number of customers are turning to regionalization as a path forward: "With change of every kind and scale occurring at an exponential pace, business interruptions represent the top risk for companies today and to compete, they must be willing to forge new paths in our increasingly dynamic world."
Certainly, there are benefits to be had from regionalization including a more diverse range of suppliers and more opportunity to improve collaboration with them, greater proximity to customers, opportunities to improve customer service and reduced transportation risk and cost.
Geopolitical stability
Europe, the birthplace of the first industrial revolution has a thriving manufacturing sector and offers many advantages as a regional manufacturing destination.
Geopolitically the European Union (EU), is a collaborative of 28 countries and makes up one of the largest markets in the world with over half a billion potential consumers. Within the EU, single market goods, services, and people can flow freely, and as the world's largest trading block, the EU is ideally positioned to negotiate favorable trade agreements with the rest of the world.
Longstanding members such as France, Germany, Italy and The Netherlands with well-established industrial infrastructures and attractive markets are keen to stake their claim on emerging growth opportunities like 5G, electric and autonomous vehicles and renewable energy.
The dozen Central and Eastern European countries that joined the single market as part of the EU's expansion eastward since the mid 1990's including Hungary, Poland, Romania and Czech Republic can offer significant operating cost advantages and more complex value-added production as their governments innovate and compete to attract corporate investment.
The European Union has been motivated to pursue greater industrial independence through initiatives in key industrial areas, notably batteries. It is likely, post pandemic, that similar initiatives to reduce European dependency on external sources will emerge. However, the rate of industrial rebalancing will depend on the scale and complexity involved and is likely to begin with assembly and vertical integration.
Sustainable supply chains
As pandemic restrictions reduced available capacity and drove shipping costs higher, moving finished goods over long distances became more expensive. It is also becoming harder to justify from an environmental point of view.
Finished goods ready for sale are heavier and take up more space as they include packaging to protect the goods while being transported. This leads to more capacity being required to move them around the world, which in turn drives higher CO2 emissions, and renders supply chains at odds with corporate sustainability objectives.
Many companies are seeing the benefits of only shipping the components that are not available locally, and assembling, configuring, and packaging the final product closer to the market where it will be sold.
Postponement services shorten the lead-time to the end customer, allow for final products to be customized exactly to each market or customer's order, and reduces redundant inventory. This is a more profitable approach as it reduces the total landed cost as well as being better for the environment.
We've seen business-to-consumer shipments triple and more customers availing of configure-to-order and other fulfilment services recently.
An opportunity to innovate
One of the drivers of manufacturing's move east was the lower cost of labor. However, China's median net salary is now equal to parts of Europe, and higher than some Eastern European countries. The gap in total cost of ownership is closing and any cost advantage is fading fast.
Economics Nobel Laurate Professor Joseph E Stiglitz from Columbia University and formerly the World Bank says that while manufacturing and supply chains may return, it doesn't mean that the same number of jobs will follow.
His comments relate to the opportunities that relocation and regionalization offer to upgrade production with technologies like automation and robotics.
Industry 4.0 is a key element of relocation projects where simulation, digitalization, high penetration of automation and additive manufacturing will feature in their design. Manufacturing simulation for example, allows production flows to be mapped and remapped until the optimum factory set up is designed. Only then will the highly efficient lines be physically constructed.
As these technologies become pervasive on the factory floor, greater volumes and higher reliability can be achieved at lower unit cost and with fewer people required to manage the process.
With constraints on cost and labor availability, there are some key elements for medium to large manufacturing entities to successfully regionalize operations. These include their ability to manage the complexity of the transition and ramp-up without disturbing overall production. They must manage both the basic electronic assembly and the vertical integration of plastics and metals, while understanding the specifics of manufacturing for particular markets; and they must efficiently deploy Industry 4.0 and increase localization of supplies.
Regionalization is not a binary decision that calls for closing overseas plants. Instead, it should be considered as part of a business resiliency strategy that is environmentally sensitive and that helps you better serve your customers.