The home is being transformed by smart products that depend on multiple sensors working in unison. By using cutting-edge sensor fusion technology, we've created the most intelligent and reliable glass break sensor on the market. See how you can put our Integrated Alarm System (IAS) development kits to work.
End-to-end product integration for sensor fusion applications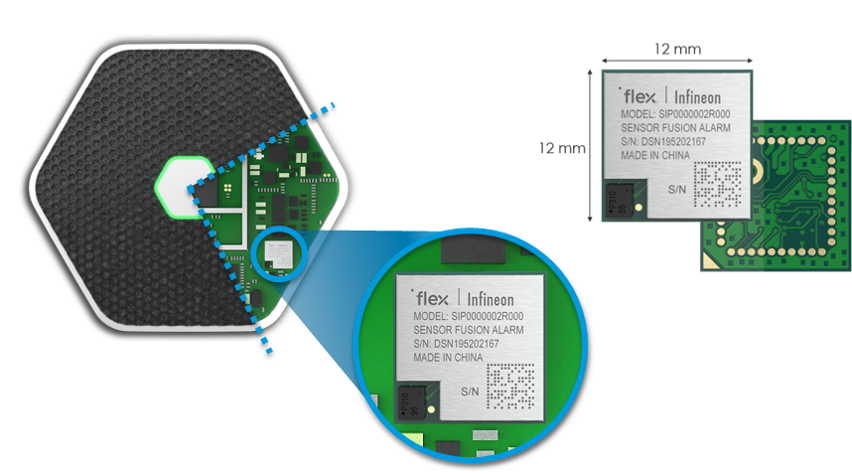 Our partnership with Infineon Technologies AG and QuickLogic Corporation delivers a complete and seamless development path for sensor fusion customers. IAS is a pre-packaged subsystem that takes advantage of Infineon's best-in-class microphone and pressure sensor, machine-learning software, and QuickLogic's EOS S3 processor.
At Flex, we are uniquely positioned to support your product integration from initial testing to commercialization. After prototyping with our development kits, IAS can be mass produced in a miniaturized form factor, called a System-in-Package (SiP). The compact size of the SiP allows it to be embedded into a variety of different products — even those with restricted form factors — with ease.
Integrated Alarm System outsmarts the competition
IAS is a compact system that simultaneously senses pressure changes within a room and monitors for a loud, glass-breaking noise. The alarm will only be tripped when the glass-breaking noise and pressure change data streams are time synchronized. This intelligent sensor combination reduces false positives due to ordinary household events such as dropped glassware or a loud television.

The partnership between Flex, Infineon, and QuickLogic leverages each company's expertise. The brains of IAS are driven by the QuickLogic EOS S3 multicore microcontroller unit (MCU), with exceptional sensor processing and ultra-low power usage. Infineon delivers with their top-of-the-line DPS310 barometric pressure sensor, XENSIV™ IM69D130 microphone, and intelligent IAS software. We commercialize and package it all together to deliver at scale, harnessing our capabilities in microelectronics packaging.
And we don't stop there. IAS has even more potential applications beyond intrusion detection — such as gunshot monitoring with the T3/T4 listener alarm or tamper detection with the optional inertial measurement unit (IMU).
Prototyping with sensor fusion is more accessible than ever
The IAS hardware and firmware are well documented by system architects and engineers from Flex, Infineon, and QuickLogic.
A new generation of AI development tools, such as those offered by SensiML, enable algorithm code to be automatically generated without explicit coding or data science expertise. With SensiML, users can build sophisticated sensor code capable of running locally on microcontrollers embedded within IoT devices. While Infineon has provided a base IAS software for glass break and intrusion detection, SensiML machine learning software can help you build a customized model for other potential applications.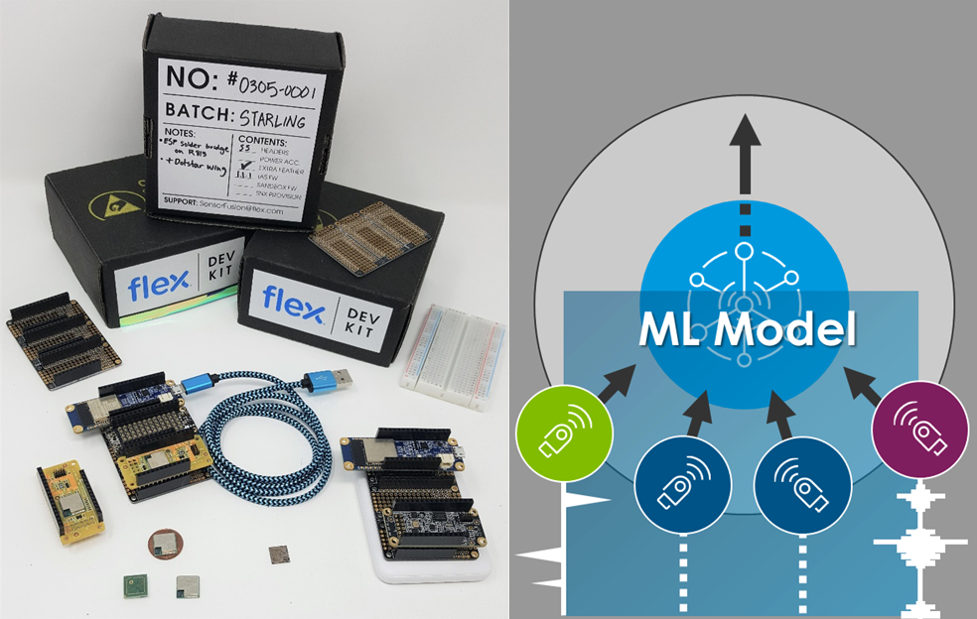 Our up-front investment in manufacturing a SiP form factor means you're able to fit your ideal combination of sensors into an unobtrusive chip — ready to be integrated onto your PCB and trained with machine learning software.
Go end-to-end by testing Infineon's sensors, using SensiML software, and scaling commercially with Flex. How could Integrated Alarm System be an asset your product line?