Managing sustainable operations and practices to reduce our environmental impact is part of our mission at Flex. Building great products for our customers that touch people's lives for the better demands an unwavering commitment to sustainability backed by continuous, concerted actions. From every corner of the world, our teams are driving the initiatives, programs and efforts that bring our commitment to life and make a positive difference in our communities. Our +100 sites take on meaningful projects, but we are spotlighting just three of these impactful initiatives that are helping lay the bricks for a more sustainable future.
New water management process saves 15+ million gallons of water and costs
Austin, Texas
Water is an essential resource for life and livelihoods. Flex is committed to the responsible use of water through reduced consumption and resource-protective practices. Operationally, we have a goal to reduce water withdrawn by 5%, focusing on sites located in water scarce areas, by 2025. Water can be heavily involved in manufacturing and is used in processes such as washing and cooling.
Our Austin, Texas site has two water plants dedicated to cooling the facility's air conditioning and manufacturing machinery, which require cool water to function. Taking a Kaizen approach, the team designed and implemented a new water management system, focused on the water plants that reduced the volume of wastewater and lowered operating expenses.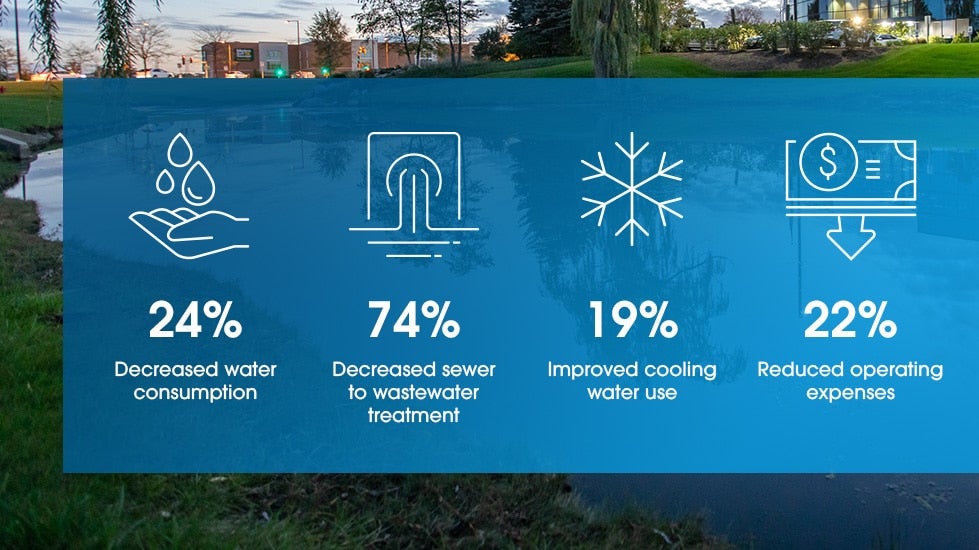 The team installed cooling tower controls, water conditioners that treat water for containments like algae and IoT sensors, which improved 24/7 sensor and data monitoring to help identify, alert and correct potential malfunctions such as changes in chemical composition or water leaks. The new system increased the recycled water rate by 10%.
As a result of these updates, the teams decreased water consumption by 24%, reduced sewer to wastewater treatment by 74%, improved the use of cooling water by 19% and realized a 22% reduction in operating expenses within the first 16 months of implementation.
Overall, between 2018 to 2021, the site reduced their water usage by 15.5 million gallons. With more proposed updates, the team looks forward to driving even more cost savings with a new condensate collection system, which collects condensate water from machinery that would usually go down the drain and recycles it back into the system, essentially creating "free water." To date, the condensate systems have already reduced wastewater drained into the sewage system by 90 – 95% percent.
Continued conservation work and community involvement supports endangered turtles
Penang, Malaysia
We are committed to improving the quality of life in the communities that we serve globally and encourage team members to lend their time and talents to help promote positive change. Our Penang, Malaysia team embraces conservation efforts to help protect local wildlife.
Turtles are considered an endangered species in many parts of the world. This endangerment has multiple reasons, including uncontrolled coastal development, loss of nesting habitats, harvesting of marine turtles, fishing mortality and more. Male turtles remain in their original birth habitat; however, during nesting season, female turtles must come ashore to lay their eggs on sandy beaches. When their natural habitats get disturbed, turtles may not lay eggs at all, contributing to a declining population worldwide.
In late 2021, our teams in Penang, Malaysia, participated in a day-long Turtle Conservation program at the Penang National Park. This program enables turtles to lay eggs in their natural habitat and safely reproduce, which has positive ripple effects across the entire marine life ecosystem.
Our Penang, Malaysia team has volunteered and supported this turtle conversation work in the past, but this year, they made headlines on TV and in print for our commitment to conservation.
Employees, along with participants from other organizations, took part in this conservation program by hiking up Pantai Kerachut, or Kerachut Beach, in small groups to ensure social distancing, and planted 100 Ambong-Ambong trees in the Turtle Sanctuary Park. These trees are a favorite spot for turtles to lay their eggs and are also vital in helping prevent beach sand erosion. Flex volunteers cleaned up the beach along with turtle nests and helped paint the conservation center. Volunteers also helped release two turtles that were previously under the Turtle Conversation Program at the beachfront.
This effort was carried out in collaboration with government agencies in Malaysia, including the Penang Fishery Department, the Penang Department of Environment, the Penang Department of Wildlife and National Park, Malaysia's Department of Broadcasting and Persatuan Sahabat Belia, a local NGO association.
We are working to expand our community involvement across our global footprint, with a commitment to ensure 100% of our major sites partner with a local NGO by 2025. In addition, empowering our employees to volunteer is essential. We aim to provide the tools needed to engage 75% of employees to volunteer by 2025 and 100% by 2030.
Recycling process for molded plastic diverts over 5 tonnes of waste to landfill
Manorhamilton, Ireland
We are charting a journey to zero waste with a goal of 50% of our manufacturing facilities reaching zero-waste by 2025. We're taking active steps to expand waste reduction practices throughout our global footprint. This involves analyzing and optimizing manufacturing processes and separating different materials by purposes for secondary use and recycling. Plastics make up a significant percentage of manufacturing waste, and our Manorhamilton site designed its own way to recycle plastics, specifically molded plastics.
Molded plastics are a result of injection molding machines melting plastic, injecting the material into a specific mold and then cooling materials to create plastic components. At our Manorhamilton facility, molded plastics include "powerfold" products that allow components to fold inwards.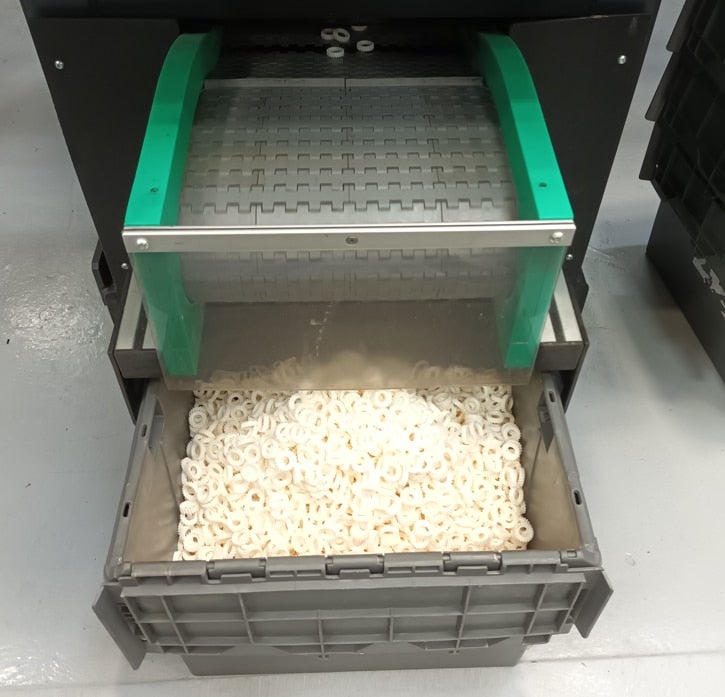 Molding components at our Manorhamilton, Ireland facility
If molded plastic components don't meet quality standards, they are to be recycled. In 2020, one of the site's waste vendors notified the team that they could no longer collect molded plastic as a recyclable product. Other waste companies were not interested in recycling the molded plastic because of a decline in the market. Rather than sending plastics to landfill, a choice the site was not willing to make, the team took matters into their own hands.
The team built a process to ensure the material would be recycled focusing on thermofil plastic, which is predominantly used in the automotive industry, industrial industry, or in creating white goods such as large household appliances and accounts for almost 50% of the site's molded plastic waste.
At the site, every molding machine running thermofil plastic was identified with a large recycling symbol and color-coded bins were installed underneath the machines, designating them as a recycling collection point. The team ensured the facility staff was properly educated and trained on the new process by implementing an environmental work instruction, which all relevant employees were trained on. Supervisors were also held responsible for ensuring compliance with the new recycling systems.
Between June and September 2021, 5.3 tonnes of thermofil plastic were successfully recycled, and the site reduced plastic bin collections by two to three per month. From June to December 2021, the site recycled 12.86 tonnes of thermofil plastic and general waste was reduced even further.
This is just a glimpse of the sustainability activities advanced at the sites by our 160,000-strong Flex team across the globe. Their ingenuity, spirit of continuous improvement and involvement will continue to promote our ongoing sustainability journey and steward positive environmental change within and beyond Flex.