As manufacturers across the globe rush to digitize the factory floor, Flex's François Barbier discusses the importance of this journey and how to extract the most value from data to drive positive business outcomes.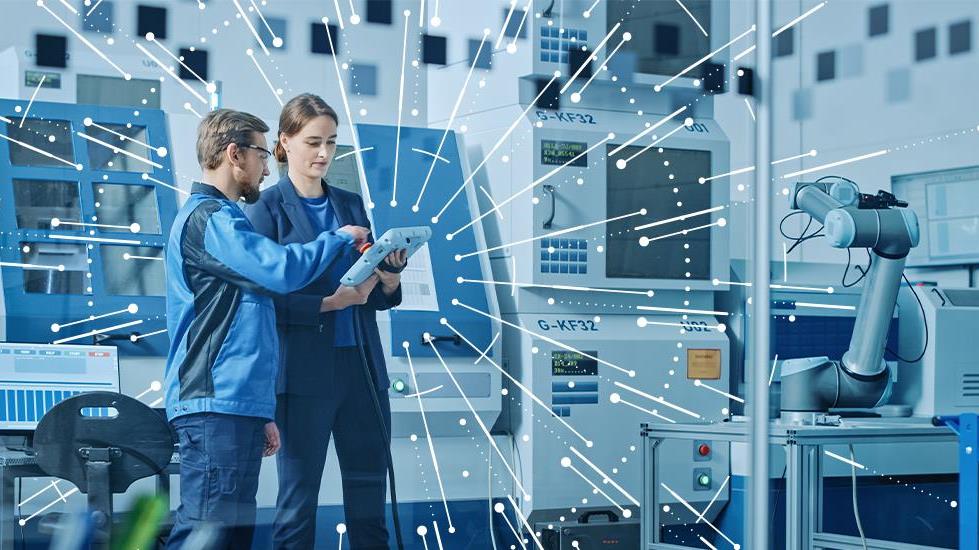 The global pandemic created massive shifts in the way we do business. The past year put a spotlight on improvements needed in global supply chains, tested the resiliency of manufacturing processes, and highlighted the critical importance of digitization and data on the shop floor.
For example, Flex recently produced its 100 millionth mask for our employees and their families. When we were at the early stages of the pandemic, we leveraged digitization throughout our mask making process. We set up screens in different factories that showcased best practices from each site, and we leveraged insights from connected devices to understand how we could increase our yield. As a result, shop floor technicians could work together in real-time despite being thousands of miles apart. With digitization, everything gets much faster and more real-time.
The investments Flex made to digitize our factory floor before the unpredictable pandemic led to tremendous results. Those who lagged in digital transformation initiatives, however, are rushing to catch up. In fact, a recent 2021 State of Manufacturing Report showed that 91% of manufacturing decision-makers are increasing their investments in digital transformation this year.
These investments will likely come in the form of Industrial Internet of Things (IIoT) sensors, connected devices, and other smart technology. When used effectively, these tools produce real-time data that increases productivity, drives efficiency, and enables more intelligent, faster decision making.
When done right, digitizing a factory can deliver incredible results, but there can be many pitfalls and false starts. With manufacturing operations in more than 100 sites covering over 50 million square feet of manufacturing space worldwide, we have developed several best practices for transforming shop floors.
Don't get lost in the datasets
A single production line can generate more than 70 terabytes of data per day, enough information to fit inside of five million phone books.
It's tempting to dig through mountains of data to find a section that looks interesting or like it could lead to process improvement. While curiosity might lead some workers to explore in more detail, it's usually not a wise choice. Instead, data is the most beneficial when employees start with a problem in mind.
The question every team should ask is, "how is the data enabling me to make lasting change that is going to benefit the customer from a quality, on-time delivery, or production perspective." Once that question is solidified, parsing the data becomes more focused.
Develop a data and digitization plan
Manufacturers should aim to spend 30% of the time thinking about how data can help solve a specific problem, 30% of time figuring out where the data to solve that problem resides, 30% of time driving improvement based on that new data, and only 10% of the time on technical implementation. The focus should always be on finding ways to extract information that helps drive business improvement.
Turn raw data into action with training
And how do you take vast amounts of raw data and turn it into actionable information? People. One of the most overlooked but critically important aspects of any technology adoption is the people leveraging the tools. That's especially true when it comes to digitized manufacturing.
It's not good enough to spend $10 million on hardware and software if you don't invest in your people so they can operate it with intelligence. Training comes in many forms, including step-by-step manuals, on-the-job training where workers can get hands-on experience with machine interfaces, and even simulated environments where they can work in a virtual environment without risking the line's uptime.
It's also critical training programs put a focus on system thinking. For example, if an employee makes changes to one machine, it can negatively impact equipment down the line and potentially disrupt downstream production. Understanding the full system is paramount.
Real-time data needs real-time decisions
During the pandemic, many support workers were forced to stay home and the people on the shop floor were responsible for leveraging insights from the digitized processes. Since a factory is a constantly moving ecosystem, it's not feasible for employees at home to analyze data and suggest improvements based on the information. After the fact does not work in a manufacturing environment.
That's why it's so essential to democratize access to data and empower every employee to leverage the insights to drive meaningful change. This can have far-reaching and powerful results for customers and internal processes alike.
The benefits of digitized, data-fueled factory
When done right, manufacturing organizations can reap many benefits from real-time digital systems implemented in Industry 4.0. Not only can companies better align with customers, ramp faster, and optimize processes, but they can also learn and take steps to optimize production in the future with less risk.
While legacy factories produced goods, today's connected factory produces goods and data. At the end of the day, it's how these factories use the data to solve problems, empower employees to make real-time decisions, and drive sustainable changes for customers that will make all the difference.
In future blogs, Flex will continue to discuss the role digitization, sustainable practices, and other advanced technologies have on the manufacturing industry at large.